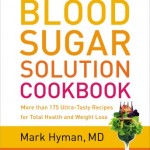 Today, my friend Mark Hyman, MD, author of The Blood Sugar Solution, has come out with a much needed cookbook that can help all of us who want to learn more about utilizing "food as medicine."
Many of you, like me, eat gluten and dairy free — but cooking gluten and dairy free meals (especially for our families!) can be a challenge. Well, Mark Hyman has made it so much easier, with 175 gluten and dairy free recipes.
If you've read my book, The Autoimmune Epidemic, you know that a clean diet is instrumental to supporting your immune system and fighting inflammation. Mark Hyman explains why the 175 recipes — and way of cooking — in The Blood Sugar Solution Cookbook are so important:
"The cure for what ails us—both in our bodies and in our nation—can be found in the kitchen. It is a place to rebuild community and connection, strengthen bonds with family and friends, teach life-giving skills to our children, enrich and nourish our bodies and our souls. Yet, in the twenty-first century, our kitchens (and our taste buds) have been hijacked by the food industry. In 1900 only 2 percent of meals were eaten outside of the home; today that number is over 50 percent. The food like substances proffered by the industrial food system trick our taste buds into momentary pleasure. But our biology rejects the junk forced on our genes and on our hormonal and biochemical pathways.
Here's a video blog on the book.
Thank you, Mark Hyman, for making it so much easier to prepare the healthy meals our bodies and brains need for mental and physical well-being. Here's to healthy cooking with and for our families — and sharing meals as a family at the dinner table (my favorite time of day!).