"THE AUTOIMMUNE EPIDEMIC: What You Need to Know"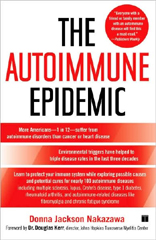 View video clips from past lectures
Donna Jackson Nakazawa investigates the reasons behind today's alarming rise in rates of autoimmune diseases in industrialized countries around the world and lays out for audiences the mounting evidence showing how our modern lifestyles, stress levels, today's diet, and our chemical-laden environment have created a "perfect storm" — the ripest possible conditions — for today's autoimmune epidemic to take hold. Nakazawa blends personal stories – including her own, having been twice paralyzed with the autoimmune disease Guillain Barre – with today's cutting edge science to shed light on what we should know and do to halt this epidemic.
In bringing today's autoimmune epidemic to light, Nakazawa helps patient and health care professionals to understand how and why science missed this epidemic in the making; what patients want — and need to ask for — from the practitioners who treat them; what we can do both personally and globally to fight this epidemic; and the simple steps that we can all take in everyday life to "empty our barrels" by lessening the multitude of factors that threaten our immune systems and our health.
Highlights from Donna Jackson Nakazawa's presentation:
Today, 24 million — or one in twelve — Americans suffer from autoimmune disease, making it more prevalent than cancer or even heart disease.
75% of autoimmune sufferers are women — and one in nine women will be afflicted with these diseases.
In the past three decades, rates of autoimmune diseases — a group of nearly 100 conditions including type 1 diabetes, lupus, multiple sclerosis, rheumatoid arthritis and thyroiditis — have doubled and tripled.
A woman is eight times more likely to have an autoimmune disease than breast cancer.
Why even today many general practitioners lack in-depth knowledge of autoimmune diseases.
Why nine out of ten people cannot specifically name an autoimmune disease.
How "autogens" (a term she coins for the everyday chemicals that science shows can play a role in triggering autoimmunity) are wreaking havoc with the human immune system.
The role our twenty-first century processed food diet plays in today's autoimmune epidemic.
Why disease often erupts in a given person at a given time due to the "barrel effect."
The connection between autoimmune disease and allergies, the rates of which are likewise skyrocketing.
Why scientists now believe that even people who are not genetically predisposed to autoimmunity may fall ill.
The groundbreaking preventions, treatments, and cures emerging from top labs around the world that promise to help halt the disease process.
As a speaker and workshop leader, Nakazawa is known for her ability to empower her audience as she explores these complex topics with depth, insight and compassion.
Speaking Engagements
2012 EVENTS
May 10
Plenary Talk
8th International Congress on Autoimmunity
Granada, Spain
View video clip
2010 PAST EVENTS
September 25
Baltimore Book Festival
Baltimore, MD
Mt. Vernon Park
March 3
Autoimmune Diseases Summit
"The Global State of Autoimmunity Today"
American Autoimmune Related Diseases Association (AARDA)
in association with the National Coalition of Autoimmune Patient Groups (NCAPG)
Washington, DC
Liaison Hotel
February 6
Author Symposium
The Lupus Foundation, Connecticut Chapter
New Haven, CT
The Water Club
2009 PAST EVENTS
November 7
American College for Advancement in Medicine (ACAM)
"Autoimmune Disease: 21st Century Approaches"
(For health care professionals)
The Rio All-Suite Hotel
Las Vegas, Nevada
June 25
From Roadblocks to Recovery, 11:15 a.m.
Radisson Fort McDowell Casino and Resort
Scottsdale/Fountain Hills, Arizona
May 2
Lupus Foundation of Mid and Northern New York, 9:00am
Rossetti Education Center at Madison-Oneida BOCES
Verona, New York
http://www.nolupus.org/EducationEvents.asp
April 4
Lupus Alliance of Upstate New York, 2:00pm
32nd Annual Lupus Seminar
Hearthstone Manor
333 Dick Road
Depew, New York
April 3
School of Family Medicine
University at Buffalo
Buffalo, New York
February 8
To Your Health Lecture Series, 1:00pm
92nd Street Y
1395 Lexington Avenue, New York, NY
January 22
Johns Hopkins A Woman's Journey, Palm Beach
Cohen Pavilion, Kravis Center
West Palm Beach, Florida
2008 PAST EVENTS
February 21
Barnes & Noble #2866, 7:30pm
2516 Solomon's Island Road,
Annapolis, MD, 21401
March 28
Book Release Party, 7:00pm
Annapolis, MD
April 3
The Congressional Club, 11:30am
2001 New Hampshire Avenue NW,
Washington, DC 20009
April 26
Annapolis Book Festival, 1:45pm
The Key School, 534 Hillsmere Drive,
Annapolis, MD 21403
May 1
East-West Healing Arts, 7:00pm
held at A Cook's Cafe
911 Commerce Road
Annapolis, Maryland, 21401
info@acookscafe.com
(410) 266-1511
May 9
The Association of Independent Schools of New England (AISNE)
2008 Diversity Conference
Natick, Massachusetts
May 12
Barnes & Noble, 7:00pm
1819 Reisterstown Road,
Baltimore, MD 21208
June 30
WBFO Meet the Author series, 7:00pm
Allen Hall Theatre, University of Buffalo South Campus
3435 Main Street, Buffalo, NY 14214
July 16
Johns Hopkins Project Restore
The 3rd International Rare Neuroimmunologic Disorders Symposium
Redmond Marriott Town Center
7401 164th Avenue NE, Redmond, WA 98052
October 18
21st Annual Lupus Seminar
The Conference Center at the Maritime Institute
692 Maritime Boulevard
Linthicum Heights, Maryland
November 15
"A Woman's Journey" Johns Hopkins Annual Women's Health Conference
Hilton Baltimore Convention Center Hotel
www.hopkinsmedicine.org/awomansjourney
View video clips