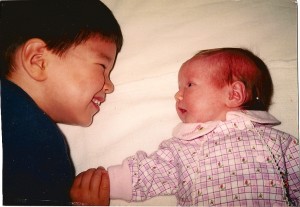 Several studies over the past few years have found that kids as young as 18 months old possess deep feelings of compassion.
One study found that when toddlers show kindness to others, it's motivated by innate feelings of compassion — not just a desire to please the adults in their lives. In the study, when toddlers saw someone in need of help their pupil sizes increased — a sign of empathic concern. After toddlers did something nice for that person, their pupils got smaller. Researchers say this means their kindness came from deep, genuine concern. In fact, toddlers showed greater signs of happiness when they gave away a special treat, than they did when they received one.
Performing truly altruistic acts—acts that involve some measure of personal sacrifice—made the kids happier than helping others at no cost to themselves.
This is the first study to show that altruism is intrinsic to who we are, and is rewarding even to very young kids, and that it makes them happier to give than to receive.
When a behavior is intrinsically rewarding like this, especially at the earliest stages of life, it suggests to scientists that it has deep evolutionary roots.
Other studies on compassion and kindness show that kids prefer other kids who are kind and, contrary to popular belief, being kind can even help kids boost their "popularity standing."
Researchers asked 400 students between the ages of 9 and 11 to perform three acts of kindness — or choose other easier tasks — over four weeks. Afterwards the kids who showed kindness saw a much greater spike in their popularity, gaining twice as many friends as their counterparts. And they also had more positive feelings about themselves.
Kids said they did simple things like gave their mom a hug when she seemed stressed (always a welcome gesture at my house!), or shared their lunch with someone at school.
But clearly, as we grow up and come of age, and especially when life gets more stressful, or life is hard, our innate sense of compassion goes underground. We compete at work. Drivers gesture angrily on the freeway, and turning on the news shows us that too many politicians and sports heroes choose to treat themselves well rather than others kindly, and that too many young people die in personal or gang violence, or spree shootings. It can seem there is too little kindness to spare.
We face so much stress in our own day-to-day lives and see such callousness around us that we can become a little numb.
And yet, even so, that innate compassion that we had at 2 or 9 or 11 is there, ready to bubble up, if we just call it up.
And even those who've faced the hardest of lives can call it up. Researchers introduced a type of brain-changing practice known as compassion meditation — sending kind wishes to themselves, those they love and those they find problematic in their lives — to teenagers living in a foster care group in Florida. These were kids who faced a lot of day-to-day stress and adversity. Their lives were tougher than most of us can imagine.
The foster teens underwent an eight-week loving kindness meditation class, keeping journals on how much they practiced.  Researchers measured their stress responses both before and after.  They also asked the teens to wear an electronically activated recorder that picks up the ambient sounds in a person's environment – including disagreements, harsh words, altercations.
And here's what happened: the more troubled teens practiced loving kindness meditation on their own – about four or five times a week  – the more compassionate they became in their day-to-day interactions and the less altercations ensued.  Not surprisingly, teens' stress hormone levels and inflammatory markers also went down, which we know is critical to improving physical health. Troubled foster teens, living calmer, healthier lives, simply by letting their innate compassion emerge from within for a few minutes a day.
Similar work is going on in high security prisons where, after meditation classes using both compassion and breath as a focus, violence has gone down by twenty percent or more.
Things haven't changed that much from when we were 2 and 9. We feel better about ourselves when we extend kindness. Others feel better about being with us. We feel less stressed. Life is sweeter all around, for our brains, bodies and cells.
I've found that it's a decisive act to be compassionate — we have to choose compassion in our rush, rush lives. But learning to choose it — along with practicing the other techniques I test drove in my one year experiment to find The Last Best Cure — is a life-changing gift not only to others, but to ourselves.